Recently we went on an adrenaline pumping 5D4N scenic ride along the Pamir Highway at the roof of the world (the Pamir Highway is the second highest altitude road in the world at 4665m!) and also the Wakhan Valley. The Pamir Highway is known as one of the most scenic drives in the world and we can definitely vouch for that. Definitely a must visit if you're travelling to Central Asia.
The Pamir Highway was part of the ancient Silk Road trade route and was built since 1932 by the Russians for transportation of goods. It was one hell of a bumpy ride, think long sinuous narrow paths with fallen boulders and loose scree dangerously strewn everywhere. At least the views were extremely rewarding and it was well worth the sore butts (and money)!
Tip: Very crucial to hire a proper driver with a good 4WD. With such uneven roads, I can't imagine riding in a normal car without proper suspension (ouch!). Also to play safe, make sure that your driver has a proper license and all his documents ready. We were stopped a gazillion times by the local police and border guards.
Do note that the entire journey was mostly along rural villages. So be mentally prepared for very basic accommodation, no hot shower (no shower during winter), simple food, unreliable electricity supply (good luck if your guesthouse is using electric heater) and of course, no wifi. It felt good though, to be disconnected from the digital world for a week.
If you're planning on sourcing for your own driver just like we did, you may choose to include the places below in your itinerary. Here are some of the memorable highlights of our Pamir Highway (Part 1) and Wakhan Valley journey (Part 2).
Bulunku lake – the coldest place in Tajikistan
The altitude here is much higher and it gets really dry and cold during winter. When we were there, it was -38°C in the morning! That's the coldest that we've ever experienced in our lives! During their coldest month, temperatures can go as low as -58°C ! How is that even possible to survive?! Anyway, we decided to take a short walk out to the lake and it was so shocking to see our hair and eyelashes covered with frost! There was also frost on the buff used to cover my mouth and nose. We literally turned into Frosty.
Also, check out our very cool science experiment where we tried to make snow from throwing boiling water into the -38°C air! Success or failure? You decide…
Bulunku to Langar – Spotted super rare Marco Polo sheep at the Khargush pass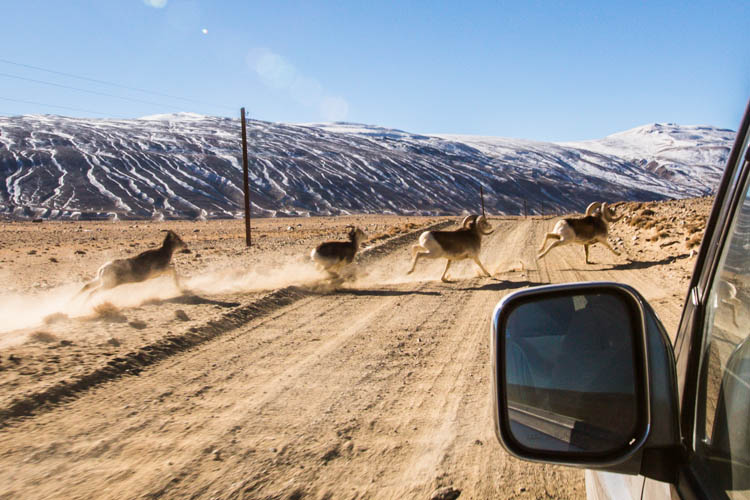 This is another bonus of travelling to Central Asia during winter, not only do you get most attractions to yourself, you also get to spot very rare animals like the Marco Polo sheep! The Marco Polo sheep can only be found in the mountainous regions of Central Asia. A mature ram can weight up to 126 kg and they have really large spiralling horns that can grow up to 140cm.  During winter, they will descend from the high mountains to get water from the river and to find grass to eat. But in summer, they usually stay at the top of the mountains and it's almost impossible to spot them! Our guide has been in this line for 5 years and this was her first time seeing them up close!
We were happily driving along when our guide spotted a trail of rising dust and sand from the distance and our driver immediately sped up to keep with up with these super fast and agile creatures. Then all of a sudden, they started running nearer towards our jeep and cut across the road right in front of our jeep and up the mountain! We couldn't believe our eyes! People actually pay hundreds of dollars for special tours just to spot these Marco Polo sheep! And even then, most of them would not be able to see them at such close proximity and can only admire them through ultra binoculars. Some hunters will also pay an average of $20,000 to $25,000 for an expedition to hunt a Marco Polo sheep. So I guess, we were really one of the very few lucky few who ever seen these rare creatures up close 🙂
Langar – Ancient petroglyphs
Petroglyphs are ancient engravings on rocks by people in the past. It's very interesting as it provides an insight into their way of living and thinking at that point of time. There are over 6,000 petroglyphs at Langar but mostly of the same thing – mountain goats, Marco Polo sheep, hunters, snow leopard. It's not difficult to locate the petroglyphs at Langar.
How to get to the petroglyphs in Langar: Follow the path behind the shop next to the local school and it'll lead you to a row of white grave stones and then the path continues all the way to the petroglyphs. We took around 30 minutes of upslope climb to reach the petroglyphs.
Our "guide" very happily photo bombing us -.- He was from Nigina Guesthouse where we stayed at and he automatically followed us when we left to explore the petroglyphs. At first we thought he was just being friendly and helpful, but when we finally reached the petroglyphs, he sneakily took out a small piece of paper from his pocket and on it was written '25 som". We weren't exactly shocked, he merely confirmed our suspicion when we noticed him following us all the way. One thing that we really loathe is the feeling that we were being taken advantage of. In this case, we clearly told the guesthouse that we didn't need a guide when they asked us and this fella here, happily followed us and then asked us for money. I'm sure he has done the same to many other tourists before. We of course, refused to give him the money as we don't feel that this is right.
Essential Information
Tour Company: Pamir Offroad Adventure Tours
We highly recommend Pamir Off Road Adventures as they were very professional and responded promptly to our emails. They provided us with a skilled driver, Musa, and guide (his wife), Nadezhda who spoke fluent english, and a solid 4X4 jeep! Trust me, the jeep's one of the most important factor to consider when travelling the Pamir Highway! The price that we paid was actually for the driver only, and it was a bonus to have a knowledgeable english speaking guide to join us for this tour 🙂 Throughout the 5 days, they were very attentive to our needs and ensured that we were always kept warm and comfortable at night in the different guesthouses. We were exceptionally pleased when on the very last day, both Musa and Nadezhda went the extra mile by sending us to the market at Khoroq to negotiate a very cheap price for a taxi to Dushanbe. This was an extra value added service which we really appreciated. Overall we were very satisfied with their excellent service!
Contact Information: Januzak (Director), 900577888, janpamtour@gmail.com
Please contact Januzak for more information on the cost of the tour.
Check out part 2 where we continued our journey along the Wakhan Valley of Tajikistan and explored ancient castle ruins, fortresses and soaked in natural outdoor hot springs!
[fb_button] [yuzo_related]